Capacity: Gross Total 689 ℓ (Liter)
Net Depth with Door Handle(mm): 716 mm
Net Depth without Door Handle(mm): 716 mm
Net Depth without Door(mm): 610 mm
Net Weight(kg): 103 kg
Power Cool Function: Yes
Power Freeze Function: Yes
Number of Shelf (Total): 3 EA
Number of Shelf (Silde Out): 1 EA
Wine Rack: Yes
Number of Door Pocket: 5 EA
Interior LED Light: Yes
Warranty Policy: 10 years Compressor Warranty
More fresh space inside, More seamless style outside
SpaceMax™ Technology
Store more food with a very spacious interior. Its unique SpaceMax™ technology enables the walls to be much thinner as it uses a minimal amount of high-efficiency insulation. So it creates more storage space without increasing the external dimensions or compromising energy efficiency.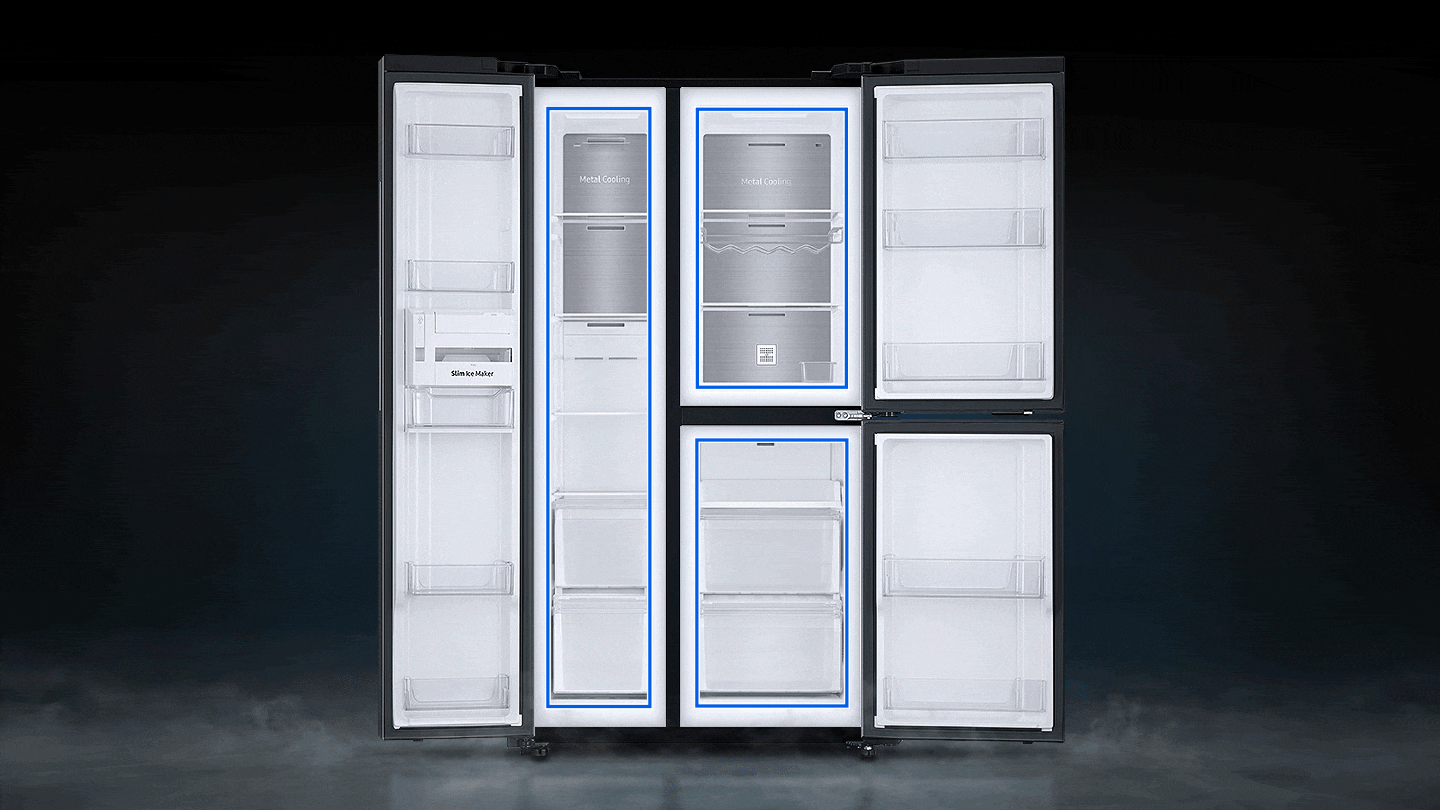 Always fresh food, wherever it is
All-around Cooling
Make sure that all your food is properly cooled – wherever it is in the fridge. An All-around Cooling system continually checks the temperature and blows out cold air. It cools the fridge evenly from corner to corner, so every item of food stays fresher for longer.
Last longer with up to 50% energy saving
Digital Inverter
Samsung Digital Inverter Compressor lasts your food longer with up to 50%*** energy savings, and it also can keep working for 21 years continuously*. It automatically adjusts its speed in response to cooling demand, so it reduces wear and tear. And its durability is guaranteed for 10 years**.
* Awarded a 21 year durability certification by the Association for Electrical, Electronic & Information Technologies in Germany (Verband Deutscher Elektrotechniker – VDE).
** 10 year warranty is limited to the compressor only.
*** Based on internal lab results in comparison with Samsung's conventional model.
Minimize cool air loss by 55%*
3 Door SBS
Store and organize your food more efficiently for the ultimate convenience. The 3-door, side-by-side (SBS) refrigerator has two fridges and one freezer. With its upper and lower fridge, it minimizes cool air loss by 55%, so you can save energy. And everything can be kept well organized.
Fast cooling and freezing on demand
Power Cool / Power Freeze
Enjoy a rapid cooling performance. At the touch of a button, Power Cool blows intensely cold air into the fridge to quickly cool your groceries or favorite drinks. And Power Freeze delivers a fast blast of cold air into the freezer. It's great for freezing or firming up frozen food and making ice.