Philips BT3102/15 Cordless Beard Trimmer
Effortless even trim This Philips BT3102/15 Cordless Beard trimmer with the innovative Lift & Trim system lifts and captures more low-lying hairs for efficient, even trimming results. This way you will easily achieve the 3-day stubble, short beard or long beard look you want.
Specification :
Brand : Philips
Model Number : BT3102/15
Type : Cordless
Blade Material : Stainless Steel
Body Material : Plastic
Color : Multicolor
Trimming Range : 0.5 – 10 mm
Water Resistant : No
Washable Head : Yes
Features : Adjustable Trimming Range, Rechargeable, Easy to Clean, Non-Allergic, Detachable Head
Suitable For: Beard & Moustache
Power Requirement : 220 – 230 V
Power Source : Battery
Power Consumption : 5 W
Batteries Included : Yes
Battery Run Time : 60 min
Feature :
1mm precision settings
Stainless steel blades
60 min cordless use/10h charge
Lift & Trim system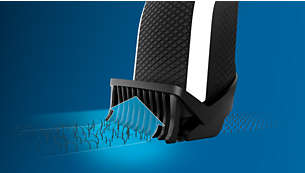 Lift & Trim comb guides hairs to the blades for an even trim
Trim your stubble beard with our new Lift & Trim system: the comb lifts and guides the hairs to the level of the blades for an even trim.
Stainless Steel Blades for long-lasting sharpness
Get a perfect yet protective trim, time after time. The trimmer's steel blades lightly brush against one another, sharpening themselves as they trim so they stay extra sharp and effective as on day 1.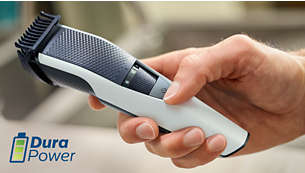 DuraPower technology for a longer lasting battery life
The DuraPower technology lowers the friction on the blades, which protects the motor and the battery from being overloaded. This way, the battery life time of your trimmer is increased by 4 times.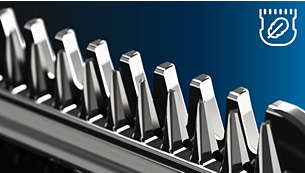 Skin-friendly blades for smooth skin
Blades have rounded tips for smooth contact with skin to prevent scratching and irritation.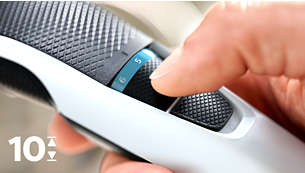 10 lock-in length settings, 0.5 – 10mm with 1mm precision
The zoomwheel lets you choose from 0.5 to 10mm length settings, with 1mm precision steps.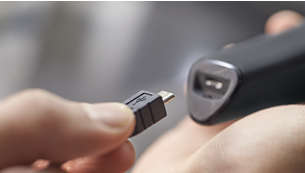 Up to 60 minutes of cordless use after 10 hours charging
Charge your trimmer for 10 hours with your USB cable to get 60 minutes of cordless use.
Light on the adaptor indicates when the battery is charging
The battery charging indicator on the adaptor lets you know with a green light when your device is charging.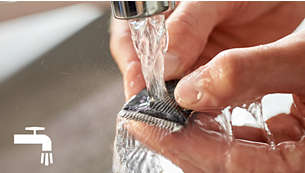 Detachable head for easy cleaning
Detach the head and rinse it under the tap for easy cleaning. Dry it before you put it back on the appliance.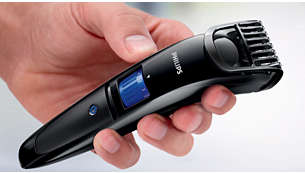 Ergonomic design for easier handling
Easy to hold and use. Designed to help you trim those hard-to-reach areas.